Code of Conduct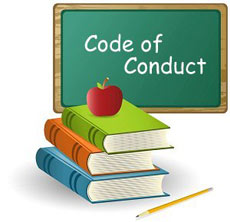 1. In relation to God :
Develop your relationship with Him through prayer and participation in the religious life of the school.
Behave in a God-like way in your dealings with others, modelling His tolerance, love, respect, fairness and honesty at all times.
See your school life as a part of your mission on earth and strive to fulfil it to the best of your ability for God.
Always speak the truth with your parents, teachers and fellow students.
2. In relation to school community :
School is your second home, love it and it will make you great.
Wear the school uniform with pride.
Attend class on the opening day after each vacation.
Reach the school at least five minutes before the assembly.
Speak positively of your school and teachers.
Show school spirit by participating in school activities.
Be responsible for your belongings. The name, class and section is to be written clearly on them.
Do not wear ornaments, expensive watches etc.
Keep your class rooms and school environment clean and tidy.
RUDE and ARGUMENTATIVE behaviour with teachers and cabinet will be strictly dealt with.
COMING OUT OF CLASSES after the teacher leaves the class and before the arrival of the next teacher is strictly prohibited.
DISCIPLINE IN BUSES SHOULD BE MAINTAINED. Any complaint by the bus monitor / teacher / driver for violation of rules will be looked into and severely dealt with.
Students are not allowed to celebrate birthdays or distribute invitation cards to students in school but on that day they are welcome to share something with underprivileged children of the school or of their neighbourhood.
Attendance on School Functions is necessary.
It is mandatory for the students to attend Republic Day and Independence Day celebrations. Moreover, it is imperative that the spirit of nationalism & patriotism is inculcated among them.
Staying away from Class will be seriously dealt with.
Any kind of damage caused within the school premises must be compensated by the one who causes it.
Those students who are absent on the first day of the academic session will lose their seat unless a written application stating a sound reason for absence is submitted to the Principal well in time.
Co-operate with all staff members and show due respect to them.
Do not leave the school premises without the written permission of the Principal or Vice Principal.
Be proud of your school and present a good image especially by behaving yourself when in public and particularly on your way to school.
Read or listen to messages and do as instructed.
Speak in English within the class rooms and school premises.
Be regular in attending classes and doing your home work and other assignments.
Make full use of the Library. Maintain silence in the library.
Keep off the verandahs, staircases and class rooms during recess/lunch breaks.
Make necessary arrangements to stay back after school hours to participate in academic, sports and co-curricular activities whenever required.
Respect school property and report immediately of any damage to school property.
Restrain yourself from reading literature that feeds the passions, leaving the mind disturbed.
Do not meet any visitor in the school without the permission of the Principal/Vice Principal.
Do not use unfair means during tests. Such improper conduct is unworthy of a student of Sacred Heart Senior Sec. School and can lead to severe penalties.
Bring relevant text books for all periods.
Do not bring comics, story books etc. which will distract you from your studies.
Use of mobile phones is strictly prohibited in school. If a child is found carrying a handset, the defaulter will be fined 1000/- and the repetition of the act will lead to the confiscation of the handset.
Students are strictly forbidden to bring any electronic gadget and correction fluid-pen/bottles to school. CD of any type is not allowed without the explicit permission of the Class teacher/Principal.
Students who avail the school bus facility are not allowed to use any other bus other than their allotted buses for their respective sectors and stops. Student are not allowed to go with their friends to their homes or to any other place from the school.
No collection of money for any purpose whatsoever shall be made in the school without explicit permission of the Principal.
3. In relation to your Teachers :
Show them courtesy and respect at all times.
Accept their authority, their right to give instructions, and to allocate suitable correction to those who break rules.
Love your teachers and never speak ill of them.
Come to school on time and bring all necessary materials with you.
Listen attentively when teachers and others are speaking. Indicate your desire to contribute by raising your hand.
Avoid any distractive behaviour during lessons.
Cooperate with the Class Monitor in maintaining proper order and discipline during change of periods and when the teacher happens to be absent or late.
Raise your hand to ask/answer questions.
4. In relation to your fellow students :
Do not interfere with their personal matters by bullying or by indulging in violence.
Do not defame their good name by insults or spreading rumours.
Do not interfere with their chances to learn by disrupting the class room environment.
Do not take and spoil material belonging to others. Speak to them with courtesy and respect.
Do not pick up quarrels with your fellow students.
Help the weak students to cope with their studies.
Be responsible for your actions and accept the consequences of them.
5. In relation to your parents :
Respect them and obey them.
Communicate all the messages given in the school.
Remind them to meet all the concerned teachers on the prescribed PTM date to enquire about your progress in the school.
Try to be independent in getting ready for school without bothering your parents.
Do not tell lies or hide matters from your parents.