Principal's Message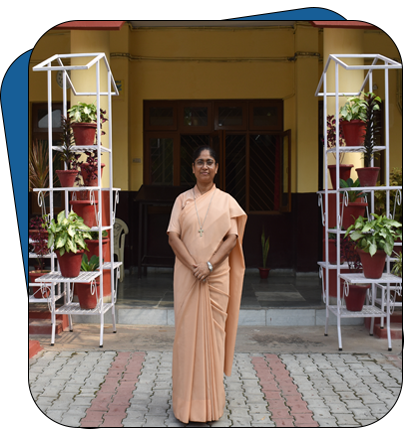 Dear Students,
"The function of education is to teach one to think intensively & to think critically. Intelligence plus character – that is the goal of true education." – (Martin Luther King)
Welcome to our website. This is the virtual reality of life. According to Mother Seraphina Farolfi CFMSS, "School is the place where each child has to be cared for, loved, understood, nurtured & guided in order to draw out her / his full potential." St. Clare's Convent School, Lucknow, aims at forming students to be intellectually competent, morally sound, psychologically whole spiritually responsible, growing in friendly & harmonious interpersonal relationship, imbued with a deep sense of noble values & concern for the less fortunate & ever open to further growth. The new growth is e – learning / virtual teaching & learning / online classes, e – education or e-learning is the delivery of education or any type of training by electronic teaching methods. This electronic method can be a computer or a Smartphone / Smart T.V / I Pad, where teaching material is accessed by use of the internet. Today with this Pandemic of COVID – 19 we have launched totally into e – teaching & e – learning process. As a Clarian school family, we work together with the access of technological skills & develop into power skill for management, Parents, Teachers, Students & the staff. Round the clock our teachers are accompanying students to ventures into the virtual reality of Google Meet / Zoom in science, technology, critical thinking, communication, media & information literacy, collaboration, communication, creativity, life skills, social skills, initiative, flexibility. Students are empowered to think a new & be e – smart & socially smart. Our team work generates competence, responsibility, motivation, power& communication in our students. Children are the future leaders moulded & shaped by Seraphinian method in 21st century education. We use
1. The natural – intuitive – motherly method of teaching.
• The art of listening
• Giving recognition & responsibility
• Time management
• Warm and Caring Attitude
2. Unity of education & unity of the pupil.
3. The unity of the educational community.
4. The teacher: A person of prayer for pupils & other stake holders.
5. The art of teaching: instilling values, moulding character & nurturing personalities while imparting knowledge.
Learners of Clarian family are transformed into light house of knowledge, joy, creativity intelligence and compassion. Dear parents, you are the chief educator of your children. Therefore the school seeks your cooperation & involvement as of utmost importance. We shall overcome this pandemic with vaccines but education is ever evolving & ever changing according to the need of the hour and signs of the times. Education of heart & mind, confirmed in the power of here & now. Life goes on as we tread the path of life. Lets give our best to our children.
Wish you all the best!
Happy Viewing!
Your affectionate Principal,
SR. VENITA JOSEPH